Kentucky and Alabama will meet in the semi-finals of the SEC tournament at 1:00 pm est on ESPN.
The Crimson Tide upset #1 seed Auburn behind 31 points from freshman phenom Collin Sexton. He has scored 81 points in Alabama's last 3 games, including the game winner against Texas A&M.
A major factor in the game will be if Donta Hall will play, and how effective he might be if be does suit up. Hall took a devastating fall. Hard to imagine him not being concussed. Ouch.
Kentucky will also be without Jarred Vanderbilt again as he nurses an ankle injury.
Keys to the game:
1. The Big 3. Shai Gilgeous-Alexander, P.J. Washington, and Kevin Knox have established themselves as a nasty trio for opponents to try and contain. Let's keep that going. I really am optimistic about the NCAA tournament watching these 3 guys play consistently. They combined for 48 points in Friday's win over Georgia.
2. Make Collin Sexton look human. Good luck with that.
3. Rebounding. Another game with no Vando. Cats have to gang rebound. Cal has been aggressive in getting the team to understand they rebound or they lose. Limiting offensive rebounds is important.
Let's GOOOOOOO!!!!!!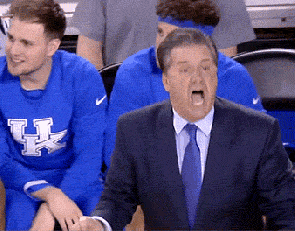 I expect the Cats to roll the Tide today.
Prediction:
Kentucky – 75
Alabama – 63